Read Time:
4 Minute, 10 Second
Very different from previous recessions when the industry was stuck with huge inventories and large production runs.
By Wolf Richter for WOLF STREET.
Sales of new cars and trucks in the third quarter, at 3.48 million new vehicles, were up about 2.8% from the third quarter of last year, according to data from the Bureau of Economic Analysis. But the third quarter of last year had been terrible: it was the quarter when dealers ran out of inventory because automakers cut production for months because they couldn't get the components needed to assemble. their vehicles, because component manufacturers had been affected by the chip. shortages begin in late 2020 and early 2021. Chip shortages, while improving, continue to plague the industry.
But now there's that extra wrinkle, triggered by skyrocketing fuel prices: a shift from trucks and full-size SUVs to vehicles with better fuel economy and electric vehicles. And supply chains, which are long and complex and stretch all over the world, cannot react quickly enough to sudden changes in buying habits.
Thus, compared to Q3 2019, sales of new vehicles fell by 19%. Compared to three years ago, quarterly declines have been in the range of 17% to 25% for the past five consecutive quarters. But sales had also declined in the years before the pandemic. Compared to Q3 2016, sales are down 22%. And at 3.48 million vehicles, sales are back to where they were in the 1970s.
Over the past four decades, the industry has essentially been stuck in stagnation interrupted by huge declines and upswings. Lows before 2021 were linked to falls in demand: the double-dip recession in the early 1980s; the recession of 1990-1991; and the financial crisis when GM, Chrysler and many of the component manufacturers filed for bankruptcy.
But in 2021 and beyond, the dip was caused by supply shortages – not a drop in demand.
Piggy bank estimate of unmet demand.
There hasn't been enough supply to meet demand since spring 2021. There are long waiting lists for various models that people have ordered because they weren't in stock. . And the demand has shifted towards fuel-efficient vehicles. And there are now long waiting lists for those. There are now reports that the 2023 model year production runs have already been sold out, such as the Ford Maverik hybrid pickup.
Inventories of new vehicles remain near their lowest levels. At the end of August, new vehicle inventories on dealer lots and in transit, at 1.23 million vehicles, were still down 65% from August 2019 – although there are big differences between the brands: Kia, Toyota, and Honda dealerships are basically out, but Ram, Dodge, Jeep, Buick, and Chrysler dealerships have plenty, if not more: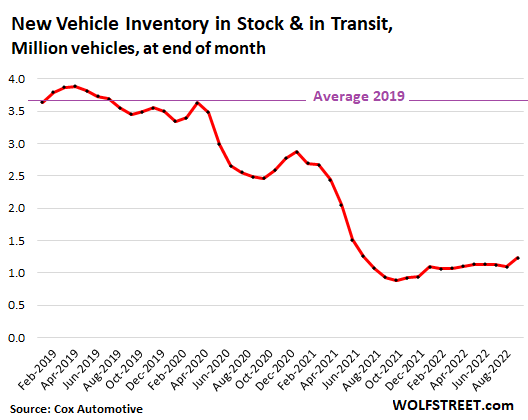 Most people can keep driving what they already have for a year or two or more. And so most people can wait for the supply to arrive. But eventually they will have to and want to buy a vehicle.
The catastrophic flooding of a hurricane, like Ian, can remove a few hundred thousand vehicles from the national fleet that need to be replaced quickly. (Be careful when buying a used vehicle with a clear title that has been flooded, which can cause mega trouble, and they will soon appear in faraway states to be sold to unsuspecting people).
So now there's this mass of potential buyers who didn't buy a vehicle because they couldn't get one. And this pool of potential buyers grows with each quarter that production cannot meet demand.
This includes fleets, such as rental fleets, but also commercial and government fleets, which have struggled to fill orders since the spring of 2021, and are keeping vehicles in service longer than they would have. done otherwise.
Higher interest rates will drive some retail buyers away, and they may turn to used vehicles.
We can estimate the amount of unmet demand that has accumulated. If actual demand averaged around 4.2 million vehicles per quarter, while supply averaged around 3.4 million over the last five quarters, then every quarter 800,000 vehicles are adding to the pile of unmet demands, which now stands at around 4 million vehicles in total.
So even in a recession, this unmet demand for vehicles would weigh on the market and turn into sales as the vehicles arrive. As supply increases during a recession, sales may actually rise from today's desperately low levels.
This is very different from previous recessions, where the industry was overloaded with huge amounts of inventory and large production runs to supply more inventory, just when demand suddenly collapsed.
Do you like to read WOLF STREET and want to support it? You use ad blockers – I completely understand why – but you want to support the site? You can donate. I greatly appreciate it. Click on the mug of beer and iced tea to find out how:

Would you like to be notified by e-mail when WOLF STREET publishes a new article? Register here.