Read Time:
6 Minute, 38 Second
The 2020 Toyota Sienna minivan is an older design that hasn't changed much in a decade, but it's still a solid choice for its value, impressive power, and optional all-wheel drive. The Sienna remains unchanged after Apple CarPlay and Amazon Alexa compatibility was added last year. The Sienna offers all-wheel drive, and last year Toyota extended the system's availability to six of the minivan's seven trim levels, including the sporty Sienna SE, which features muscular exterior styling, wheels and tires. taller for better handling, but firmer- riding suspension.
All seven trim levels, L, LE, SE, XLE and Limited, come with a long list of standard active safety systems and driver aids and most trims can be ordered in seven- and eight-passenger configurations . Every Sienna is equipped with a 3.5-liter V6 engine developing 296 horsepower. An 8-speed automatic transmission and front-wheel drive are standard, and all-wheel drive is optional. The Sienna is powerful for a minivan and it drives well. The Sienna SEs have a firmer ride suspension but handle slightly better.
The minivan's 164 cubic feet of passenger space is among the roomiest minivans on the market. Remove its seats and it can swallow several sheets of 4-by-8 plywood like a pickup truck. Other great family features include a speaker that projects the driver's voice to rambunctious kids in the back and an available Blu-ray player to keep them occupied. Every 2020 Toyota Sienna comes with adaptive cruise control, forward collision warning with automatic emergency braking, automatic high beams and active lane control.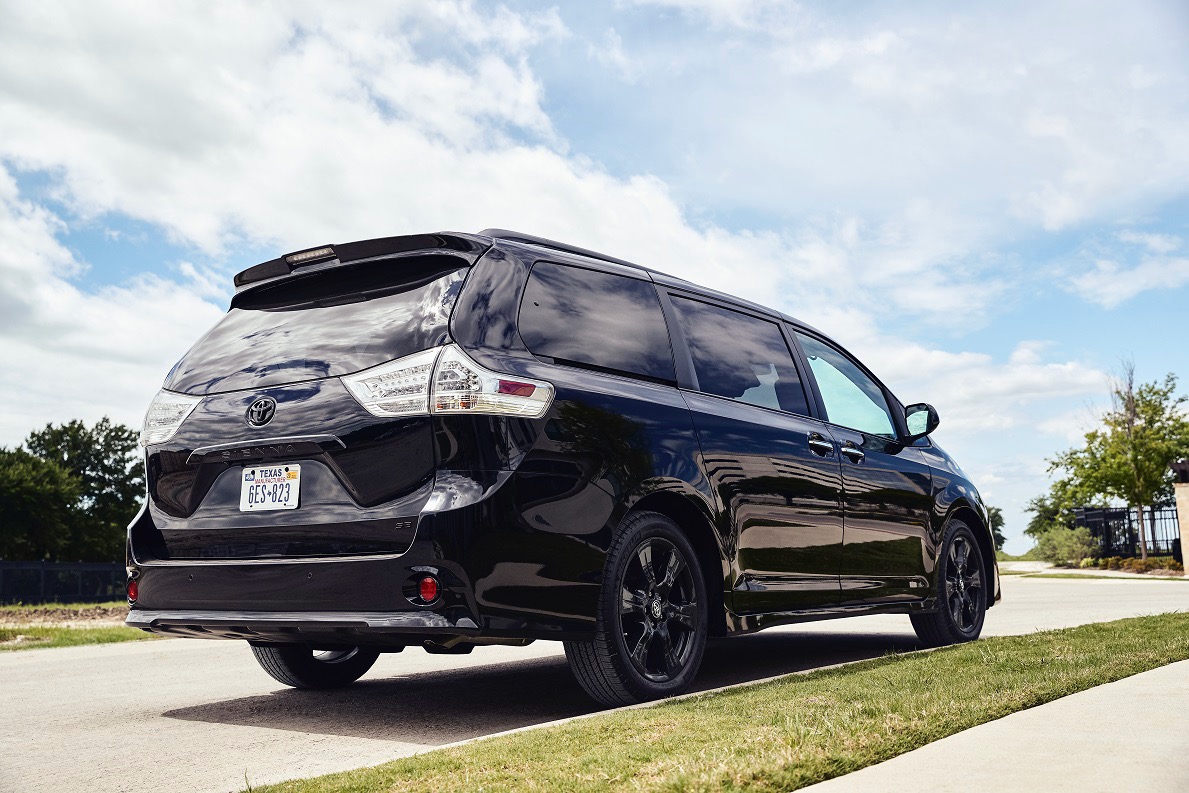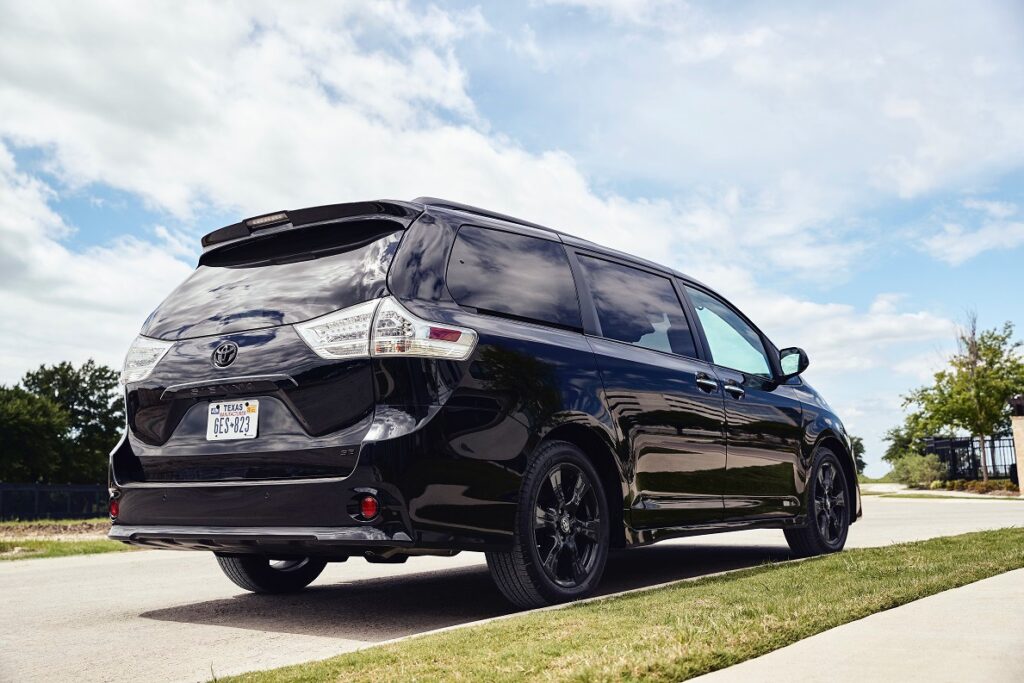 Most people don't buy a minivan for its looks. After a decade with few styling changes, the look of the 2020 Toyota Sienna isn't cutting edge. Updates to its grille, headlights and bumpers last year help keep the Sienna looking fresh. Although all trim levels of the 2020 Sienna share a basic shape, Toyota has done a good job of differentiating each version. The sporty SE model has different bumpers with an open lower section at the front, as well as clear taillights and larger 19-inch wheels. The grille carried by the top Sienna XLE and Limited models is dressed in additional chrome. Most trim levels also have their own wheel designs.
With its smooth and powerful V6, as well as the unique availability of all-wheel drive, the 2020 Toyota Sienna is a solid performer. Every 2020 Toyota Sienna comes with 296 horsepower, from a 3.5-liter V6 that delivers smooth, quiet acceleration. The minivan's 8-speed automatic transmission is programmed to shift quickly to save fuel. When called upon, it shifts smoothly and matches the relaxed character of the Sienna. All versions come standard with front-wheel drive. All-wheel drive is offered on six of the minivan's seven trim levels. The Sienna's steering is light and precise, as is its thick steering wheel.
The Sienna's cabin isn't as quiet as some rivals, but the Toyota is smooth, comfortable and refined. In Sienna SE guise, the minivan rides firmer, but it's not rough or uncomfortable. The trade-off is improved handling, even if it's far from sporty. With all-wheel drive, the Sienna is ready for a ski trip or winter drive, and we don't know why many other minivans don't offer the same functionality. It's a solid combination, and the Sienna and Chrysler Pacifica are the only minivans available with all-wheel drive.
The 2020 Toyota Sienna's fuel economy matches the performance of its V-6 rivals, however, its fuel efficiency drops as expected when equipped with all-wheel drive. The EPA rates the front-drive versions of the 2020 Sienna at 19 mpg city, 26 highway, 21 combined. With all-wheel drive, available on all trim levels except the base Sienna L model, EPA ratings drop to 18/24/20 mpg. All versions are designed to work with regular unleaded. In our week with an all-wheel-drive Limited trim averaging 20.8 mpg, slightly better than EPA estimates.
Every 2020 Sienna comes equipped with forward collision warning with automatic emergency braking, adaptive cruise control, active lane control and automatic high beams. NHTSA gave the Sienna five stars overall, but the minivan earned only four stars in the side impact and rollover test. In the IIHS, it received an "Acceptable" overall rating for its driver-side safety in the small front overlap test, and a "Marginal" rating for that same test on the passenger side. These tests simulate impact with an object such as a utility pole or oncoming traffic. Otherwise, the IIHS rated Sienna "Good" and the organization rated the pickup truck's automatic emergency braking system "Superior."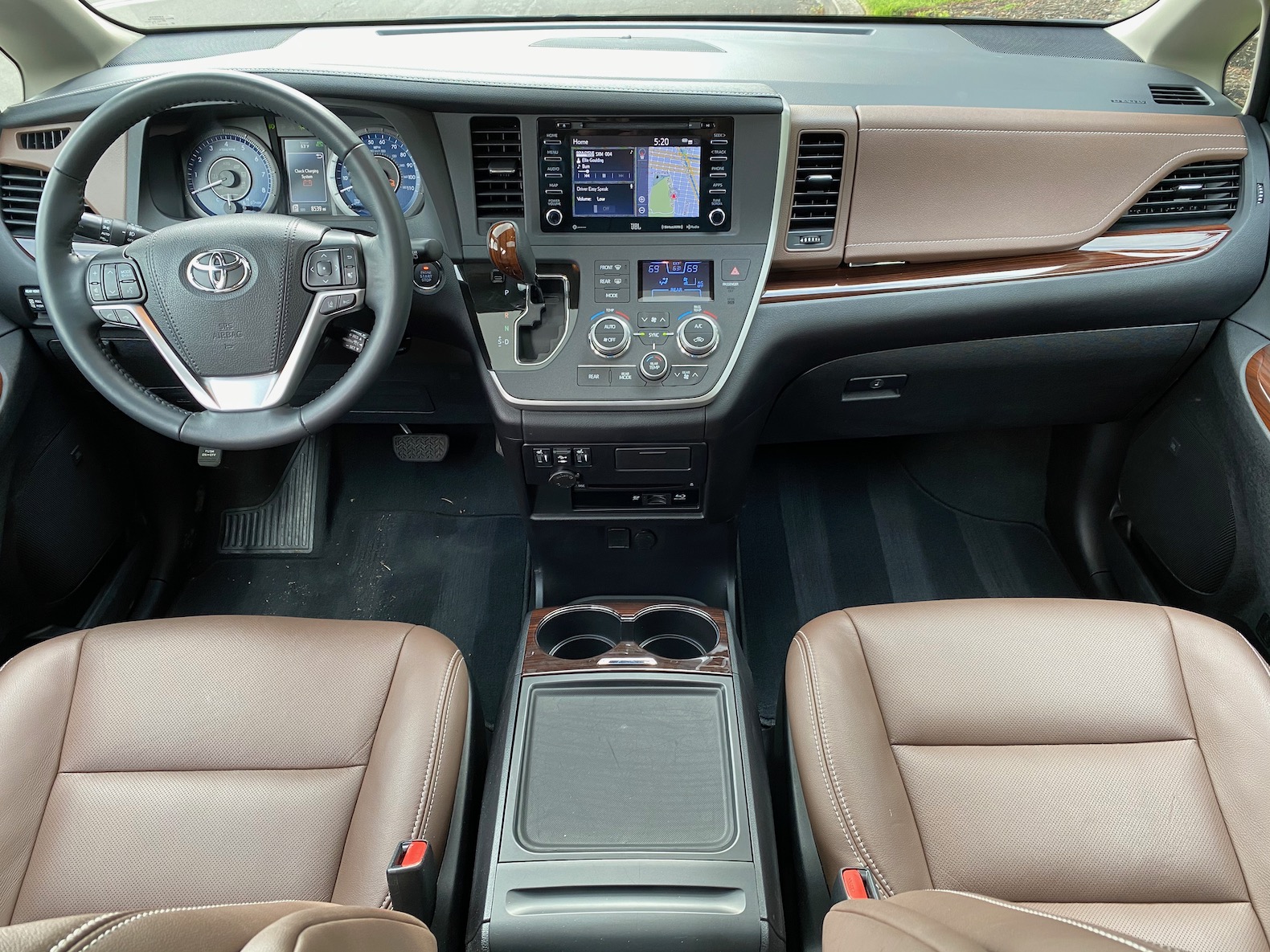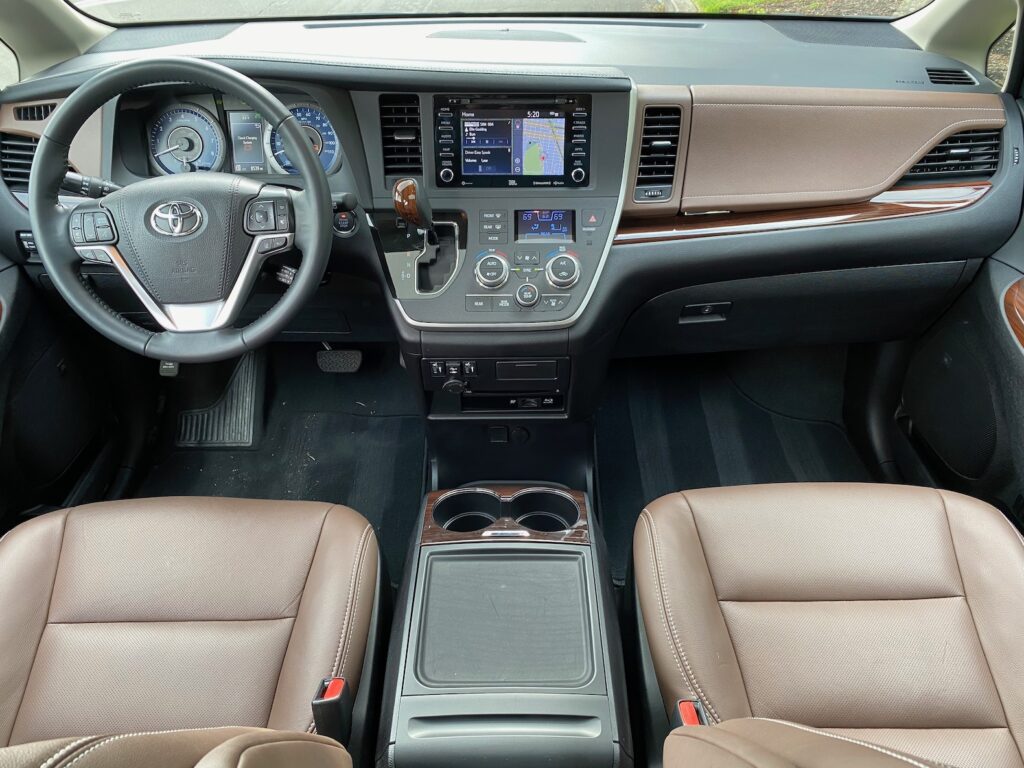 In 2018, Toyota updated the van's curvaceous dashboard, which houses a 7.0-inch touchscreen. Higher trim levels also have a 4.2-inch display in the gauge cluster for additional information such as fuel economy. If you need to haul people and their stuff, few vehicles do it better than the 2020 Toyota Sienna. If comfort, space and capability are what you're looking for in a minivan, the 2020 Toyota Sienna delivers, even if its rivals do it with more style inside.
The 2020 Toyota Sienna stretches about 200 inches from bumper to bumper, which means it's big inside and out. Its doors open to reveal 164.4 cubic feet and a highly configurable cabin. There's seating for eight or seven with optional second-row captain's chairs, and the middle seats can be removed to turn the Sienna into a huge minivan. Unfortunately, the Sienna's second-row seats don't stow into the floor and instead have to be unlocked and raised. In the top version of the Sienna Limited, the second-row captain's chairs recline and feature footrests and leg pillows.
A power-folding third-row bench seat is standard on higher trims. The third row is split 50/50, for multiple passenger or cargo configurations. It's also large enough to comfortably fit adults. With the third row folded flat, the Toyota Sienna offers 118 cubic feet of cargo space. But the real surprise is the minivan's minimal cargo space, which measures 39.1 cubic feet behind its third row. That's enough room for several suitcases and backpacks, which most crossover SUVs would struggle to accommodate.
The 2020 Toyota Sienna is packed with features, however, some if its competitors offer features not available on the Sienna. Chances are there's a 2020 Toyota Sienna to satisfy most minivan buyers. The minivan's long list of standard features is complemented by a wide range of options and a decent infotainment system. Even the base Sienna L has a suite of active safety systems, a 7.0-inch touchscreen infotainment system with Amazon Alexa and Apple CarPlay compatibility. Don't look for Android Auto compatibility, but at least there are five USB ports to satisfy teenagers. Toyota also offers a dual-screen Blu-ray system.
For most buyers, the entryway to the lineup is the Sienna LE, which comes with dual power sliding doors, stain-resistant fabric upholstery and a power driver's seat. The luxurious XLE adds a power passenger seat, leather upholstery and a sunroof, while the Sienna Limited gets a power-folding third-row bench seat and an innovative speaker system that amplifies the driver's voice in the second and third rows of the van. Buyers looking for a more athletic minivan should check out the Sienna SE, which sits between the LE and XLE with larger 19-inch wheels and tires with sportier suspension.
The 2020 Toyota Sienna is well equipped, offers features not found on some competitors and, in doing so, represents excellent value for money. The fact that it comes with Toyota's reliability and resale value is just a bonus. With a refined powertrain offering all-wheel drive and ample interior volume, the 2020 Sienna should be on everyone's minivan shopping list.
For all your new car buying needs, check out: drivevise.com Purchasing vehicles made easy!